Saturday, June 28, 2003
Long Weekend Cleaning
Been There, Done That or Sent Stuff:
- Vie en forme membership card 2001
-
OptixSport
business card
-
Boulangerie Mr. Pinchot
business card (I don't know who those people are)
- Clinique Medicale 1851 business card
- CLSC des Faubourgs business card
-
Kyle M. Evans
business card
- address of an dear friend
- aunt's phone number
- dad's advice: take 91 mg ASA
- bank's business card
- a doctor's note
- a (thankfully) forgotton phone number
- Montrealer
Sherwin Tjia's
vernissage announcement card
- postcard from AM during her first visit to
Sidney, Australia
2002
- New York City pocket guide by the shivery
Whitney Museum
from 2002 visit
- postcards of
Nanaimo, BC
from a 2001 visit
- postcard of my all-time fave film "
A bout de souffle
" with J. Seberg and J.P. Belmondo kissing
- postcard of 1957: Rock n' Roll Gal by illustrator Owen Kampen
- postcard of painter
Emily Carr's
Logger's Culls 1935
- postcard of 1960: Marijuana Girl by Santos
- the verve
Urban Hymns
sticker
- postcard for les folies cafe on mont-royal est
- postcard of the
Yorkshire Dales
from a visit in 1991
- postcard of Marc Chagall's Gren Landscape 1949
- postcard of Karl Schmidt-Rottluff's Water Lilies circa 1934
- postcard of Franz Marc's The Tiger 1912
- flyer for a sound installation at
Silophone
(Montreal)
- various postcards of Montreal
- postcard of Wilhelm Hammershoi's Interior with a Lady 1901
- postcard of Mt. Shasta from Rachel of Mojave 3 during their 1 tour
- flyer for Stone and Ashes at the Firehall Arts Centre in Vancouver 1996
- 2 flyer sfor Sorted Britpop night in Vancouver circa 1996
And I've only just begun. No wonder I'm so tired. Maybe I should start throwing away these things, but I'm afraid I'll lose the memories too.
Posted
6:11 PM
::
Home
::
Guestbook
___________
Thursday, June 26, 2003
Camera excitement!
Back in Montreal, not enjoying the swamp-like humidity after 10 glorious days in
mad cow country
but enjoying my nearly ancient
Kiev 4
and my other not-so-new but recently acquired
Powershot A20
. Will be posting many pictures soon and hoping the Kiev actually works. If not, it'll make a pricey paperweight.
Posted
8:57 PM
::
Home
::
Guestbook
___________
Sunday, June 22, 2003
Wandered around Kensington yesterday until the rain began. Popped into a few used book shops and then settled into an afternoon at the Higher Ground coffee shop where I had a cup of Gencha and read a short story, Medusa's Ankles by A.S. Byatt. Just beginning to discover her vivid writing. When the rain slowed, I crossed the bridge to downtown and spent the rest of the afternoon wandering around the Eaton Centre until it and everything downtown, except for bars and McNally Robinson Books, closed. Lucky for me, there is a cafe in the book shop, so I had some soup, tea and a brief chat with my waiter about the strange ghost town Calgary's downtown becomes after 5pm on the weekend. Where does everyone go? What do they do? He couldn't say for he's from Halifax and just as perplexed at how Calgary's, Canada's official boom town of the moment, downtown offers less cultural excitement than Halifax.
At least I'm getting some serious rest. Reading a lot, sleeping and watching my thoughts flit across the stormy skies. Soon I'll be back in Montreal and working until I get back on the plane yet again sometime in August for a quick cross country road trip. Then school begins. These quiet moments will be a luxury I will miss.
Posted
2:31 PM
::
Home
::
Guestbook
___________
Friday, June 20, 2003
Welcome to Car City.
Stephen Avenue in Calgary definitely intrigues me, and to correct my earlier guesstimate, Stephen Ave is a pedestrian street for 5 blocks ending at
this massive tree sculpture
when you are heading west. What I find intriguing is what an anomaly Stephen Avenue is and the deception it presents to tourists. For a city this size (not yet a million population but encompasses 761.79km square land area), after seeing Stephen Avenue you're almost disappointed to discover that therein is the sum total of cultural Calgary.
Once outside
the core
, you realize that city planning has de-emphasized the "friendly neighbourhood" aspect apparent in cities like Toronto, Vancouver and Montreal, instead letting residential and strip mall construction dominate. That colourful mix of residential and business is sorely lacking. Need to run to a corner store? Got the munchies? Good luck if you don't have a car. To live in this city without a car is a burden, unless you live around 17th Ave SW or Kensington or in the downtown core. The C-Train is efficient but does not cover the entire city. You will at any given point need to take a bus, and many buses only run every 30 minutes in off-peak hours. No surprise here: this is oil heaven. Need proof? Just look at all the big ass gas guzzling 4x4s and pickups on the road.
Almost, but not quite, reminds me of LA.
Statistics on Calgary
Posted
1:56 PM
::
Home
::
Guestbook
___________
Thursday, June 19, 2003
Four days later and I can't say Calgary is any more interesting than I imagined or remembered. More people, definitely, and the downtown has come alive, especially during lunch: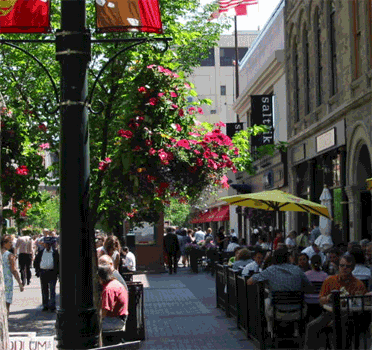 Stephen Avenue, aka People Watching Heaven
Trying to find a parallel to Stephen Ave in Montreal, Toronto or Vancouver, for that matter, is near impossible, except perhaps Prince Arthur in Montreal, the only pedestrian street I can think of, yet Prince Arthur is tiny compared to the 7 long blocks of Stephen Avenue's restaurants, shops and cafes (but not really cafes in the sense of just a coffee and treat, more bistro in style without the European flavour). The theatre, art gallery and museum are all located down here, as is the Eaton Centre equivalent. Basically, everything pertaining to eating, entertaining and shopping has been packed into this one area where the buildings date back to 1885 or so. The rest of Calgary, well, you can take it or leave it. Personally, I find the urban sprawl out of control. In traffic, it took us nearly an hour on highways to get from the NE near the airport to the outer reaches of the SW.
But Stephen Ave is pretty: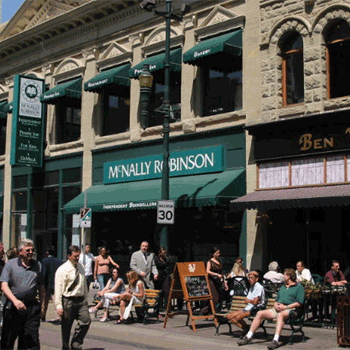 Especially on a scorcher like yesterday early afternoon. By dinner time, we were scrambling for umbrellas and this morning, it's sweater weather: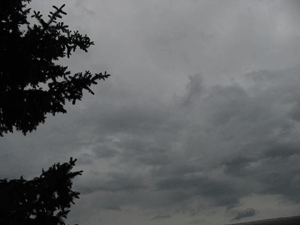 At least I'm not suffering from humidity:-) And I'm loving my new little Canon digital camera. And, of course, it's great to see my baby brother who is recovering quite nicely, thank you very much.
Posted
10:06 AM
::
Home
::
Guestbook
___________
Thursday, June 12, 2003
Just discovered
Invisible Ink: A Radio Zine
thanks to
not martha
!
Posted
2:44 PM
::
Home
::
Guestbook
___________
Charles Sheeler
Shadow and Substance 1950
River Rouge Plant 1932
Criss-Crossed Conveyors - Ford Plant 1927
River Rouge Plant Power House 1927
It is known that the amoeba is indispensable to the welfare of man. It is a hope that man is indispensable to the welfare of the amoeba. - Charles Sheeler
More:
Charles Sheeler & Photographic Myth
The Machinery of His Soul
At the Met
MFA Boston
Posted
2:19 PM
::
Home
::
Guestbook
___________
Best laid plans ...
A spontaneous trip to Calgary now confirmed. I had actually bought a ticket for my mom to visit me, but with my brother's accident, guess whose the lucky traveller? Ten days of, of ... ?? Well, besides an overdue visit with family, I can't really say. Calgary has never inspired me. A year and a half of grad studies, heater blocks, and an evil relationship that thankfully went sour about sums up my memories of that city. Enforced rest and relaxation minus daily internet access will be good for this tired soul. And a bicycle, notebooks, books and family. Plus I'll be able to test out my new digital camera! Be prepared for expanses of sky and, and ... Well, like I said. Then later this summer, a road trip from there to about here is in the works. Hopefully the Russian knock-off Contax rangefinder camera I won on ebay will arrive intact and function perfectly so that I can then test drive that camera on the road trip. Don't be surprised if this site turns into a daily photo site since all my writing of late is directed to offline creative writing projects.
Posted
2:14 PM
::
Home
::
Guestbook
___________
Friday, June 06, 2003
After two days of flu-/cold-induced 12-hour sleep, my body revolted and refused rest for more than three hours last night. Not so awful, this waking before the sun once in a while, but I don't have the luxury of falling asleep, what with work until 11 pm. What kept me awake? Stories. Then the chirping birds. Then the sheer effort of trying to quiet my mind so I could fall asleep. When the stories silenced, there were all sorts of thoughts related to family and future plans.
At least the restless morning did not go to waste. I finally did my taxes (wow, am I $poor$!), sorted my photos into File Away and Scan piles, sorted my CD collection into Keeper and WhatWasIThinking??, and now I'm off to do some photocopying at the library. Sometime next week I'll have to harrass the computer shop about my motherboard and go to Home Depot and buy those kitchen tiles,and some lumber for a much-needed bookcase and TV stand. As organized as I try to be, there's never enough space, and when there is, things seem to disappear into an organized netherworld never to be found again. With an impending change in lifestyle (yippee! the exhaustion of school and work again) family visits later this summer, this poor excuse of a summer need I add, there is much to do. At least I got those damn taxes done. Really, they should give us a tax holiday in payment for essentially doing what should be their job, although I'm sure there are a lot of beancounters who'd disagree and claim invasion of privacy.
Posted
10:34 AM
::
Home
::
Guestbook
___________
Thursday, June 05, 2003
I hate Blogger. It just ate a very interesting post.
Posted
5:56 PM
::
Home
::
Guestbook
___________
Sunday, June 01, 2003
To take my mind off the fact that my dear sweet younger brother went and did a boyishly foolish thing that resulted in his SHATTERING his ankle into FIFTEEN pieces and is now TWO TIME ZONES away lying in a hospital bed hopped up on morphine awaiting a SECOND surgery, the news of which I had the honour of breaking to our father of the fragile heart, I finally got around to the third installment of
White Space
, the rather appropriate topic being endings, in salute, I hope, to the end of my brother's foolish exploits.
Am I stressed? Damn straight. He could have killed himself.
Posted
7:40 PM
::
Home
::
Guestbook
___________
Powered by
Blogger